For most people, having a home custom built for their family is something they have looked forward to for years, if not decades. After poring over magazines and pinning every gorgeous space that caught your eye on Pinterest, your "dream home" begins to take shape in your mind. It is more than a place that will provide shelter for you family. It is where you will celebrate milestones and create a lifetime of cherished memories.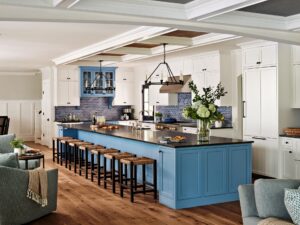 As the premier Cape Cod custom home builder, Mike Nardone and his team at MJ Nardone Building & Remodeling understand just how important it is to be certain that every single aspect of your dream home is absolutely perfect. We also understand how daunting the actual process can be. When you allow us the privilege of being your trusted partner in making your dream a reality, you will be working with one of the few builders on Cape Cod who has the experience to guarantee a seamless, stress-free process from the time the foundation is poured until the very last cabinet pull is installed.
We are happy to work from custom home plans you may have already secured, or work in tandem with your architect during the design phase of your project. Should you be in need of an architect, we frequently partner with ERT Architects and have established a symbiotic professional relationship with their team.
When it comes to building a custom home on Cape Cod, there are a multitude of unusual facets that need to be considered. With waterfront property, hurricane-resistant materials may be required. Flood zones have their own unique set of building requirements, as do historic districts. Building density and height regulations are other considerations, as are any restrictions when building near conservation land. With 20 years of experience as a custom home builder, all of which has been on the Cape, we know how to address each and every potential issue, including which permits are required when and from whom, and we are up to date on all regulations and codes.
And when it comes to builders, Cape Cod is also somewhat unique. Yes, there are many, many builders here, but their size and level of experience vary greatly. Some builders may be just a couple of guys with a truck with questionable qualifications. Other firms may be so large, your project is "just another house."
At MJ Nardone Building & Remodeling, we never build "a home." We build your home, and we are at your side every step of the way.
Please contact us for more information or to arrange a consultation.