For some families, it's the region's red-hot housing market that's making finding their dream house difficult. Others simply love their current home or neighborhood, but their family's needs have changed. Whatever the reason, many people are choosing to remodel on Cape Cod rather than relocate.
With so many home remodeling contractors on the Cape, choosing the right one – one with experience and a decades-long reputation for excellence – can be challenging. After not only meeting, but exceeding our clients' expectations for 20 years, and with hundreds of successfully completed Cape Cod remodels under our "tool belt," MJ Nardone Building & Remodeling is the Cape Cod contractor you can trust to perfectly finish your project, on time and on budget.
When it comes to home remodeling on Cape Cod, there is no such thing as one-size-fits-all. Projects can range from something as simple as repurposing existing space to create a petite en-suite master bath, to home additions, to top-to-bottom renovations.
Whatever the size of your project, we begin with a complimentary in-home consultation, where we'll take the time to understand your needs and address any concerns. We'll walk through the spaces you are considering remodeling, and may make suggestions to maximize the impact of the changes.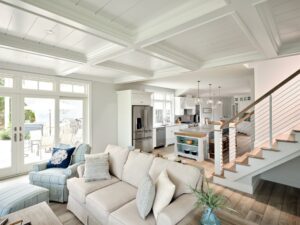 Wondering what additions increase home value? A kitchen remodel continues to offer the strongest return on investment for resale value. Because it adds so much enjoyment to daily life, a kitchen renovation is also at the top of many of our clients' wish-lists, even those with no plans to move. Over the years, kitchen design and remodeling has become one of our specialties, along with bathroom remodeling.
Many of our clients have summer homes on the Cape that they plan on living in year-round after retirement, making aging-in-place considerations another top request for our firm. With a home addition, we can add a first-floor master suite, including features such as a stunning zero-threshold walk-in shower that will facilitate your ability to enjoy your home in your golden years.
Perhaps your grown children now have children of their own and space has gotten a little tight on summer weekends. A two-story home addition would allow not only a first-floor master suite, but an additional bedroom – or bedrooms – above.
Ready to get started on your home remodeling project? Please contact us.